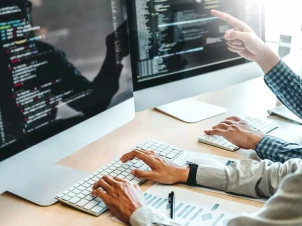 Senior QA Engineer – Automation
Automation Testing
Quality First mindset
Senior
QA Engineer -Automation
|
Any Employment Type
|
Senior Level
|
Flexible Hybrid - Remote/Office(optional)
|
Anywhere in Romania, Cluj-Napoca, Tg Mures, Timisoara
About the job
We are looking for a Senior QA Engineer for a client with strong relationships in the German manufacturing industry. In this role, you will shape the digital transformation of the woodworking industry with a high degree of personal responsibility in an international product team.
Responsibilities
Ensuring the stability and quality of our apps (frontend + backend) globally
Manage the testing process through all phases of the product lifecycle
Writing automation tests in TypeScript
Monitoring applications (DevOps, Dashboards, Alerts)
Close collaboration with colleagues from business units
See more responsibilities
Requirements
5+ years of experience in manual testing
At least 6 months of experience with JavaScript/TypeScript automation testing is highly desirable
Solid experience in quality assurance processes
The ideal candidate encourages an environment that promotes user experience perspective, excellence, innovation, collaboration and teamwork
Team player and active driver of change
Benefits
You will be part of a product company. You will contribute to developing end-to-end products that are delivered to global industry market leaders.
25 days of annual leave
Up to 5 free floating days/year for the national holidays that are during the weekends
Free day for your birthday
Flexible working hours, remote working conditions