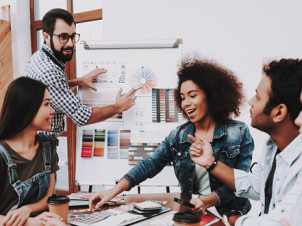 Marketing Specialist
Marketing
|
Any Employment Type
|
Mid Level
|
Flexible Hybrid - Remote/Office(optional)
|
A hands-on professional with a demonstrated track record of partnering with senior leaders to align business strategies and human resource (HR) practices. A leader who is highly motivated, committed and outcome focused with experience in strategic and operational HR planning and people management, including: performance management; employee development; employee relations; organisational and culture development; employee engagement; compensation and benefits; recruitment programs; and the alignment of people systems and procedures. Key Skills and Experience - Partnering with senior management to deliver on goals - Leadership and people management - Providing counsel and coaching support - HR Procedure development and implementation - Establishment of HR function and start up processes - HR project management - HR process improvement
About the job
We're looking for a marketing mastermind, a visionary who can see beyond the obvious and create campaigns that will shake the industry to its core. We want someone with the creative prowess to make the impossible possible, a game-changer, a maverick who's not afraid to take risks and do things differently. You'll be the driving force behind our marketing campaigns, using your out-of-the-box thinking to come up with ideas that are fresh, bold, and captivating.
Responsibilities
Developing and implementing marketing plans in concordance with the marketing strategy
Establishing goals and objectives in order to reach our customers through appropriate marketing channels (digital and traditional)
Promoting brand awareness through marketing efforts
Creating marketing materials for our website and other marketing platforms
Supporting the marketing team with marketing activities by demonstrating expertise in various areas, including optimization, advertising, social media, direct marketing, and event planning.
See more responsibilities
Requirements
3+ years of experience in marketing
Tech savvy with interest in digital marketing and platforms.
Understanding of website design/development and other digital platforms like webinar and blog environments.
Hands-on experience with Social Media and other online platforms.
Ability to communicate effectively on all levels in English.
Nice to have
Familiarity with SEO and SEM
Familiarity with marketing automation tools